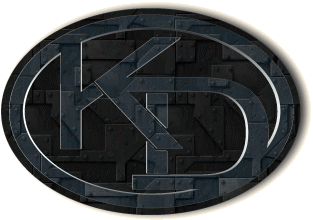 Logos
I can create, recreate, & animate logos that are anywhere
from simple to elaborate depending upon your
wants, needs, & budget.

Logo Packages
Logo Package #1 includes a fully custom color logo with a black and white variation for only *$130.00 (PayPal). This includes the logo in different sizes and both GIF and JPG formats with both light and dark backgrounds (or I can match a web site background color). I also include an avatar with the logo. I can work with your concept, sketch, or old logo or create it from scratch.
*This price will go up if I have to do more than a few concepts after we have talked. Sadly there are people who only know SOME of what they DON'T want and not at all what they do want. It is a lot of extra work and frustrating for all.

Logo Package #2 includes everything in Logo Package #1 and adds a business card layout, a single color T-shirt design (front and back) incorporating the logo and your information (for web use), and a simple animation for your web site. All of this for only $210.00 total (PayPal). A color T-shirt design is by quote. T-shirts and business cards are not included. This is for design work only, but I will point you towards excellent printers.

A 50% non-refundable kill fee is required before beginning any work. Custom artwork like this has little or no value to anyone other than the person or company it was created for.